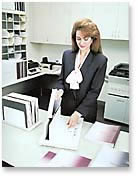 Coverbind© is a table top unit designed for individual and shared use in locations with 500 or more documents per year.
Binds documents up to two inches thick (500 sheets) or it can simultaneously bind 10 small documents.
This compact and durable system sets the standard for productivity-the fastest table top machine on the market.
Dimensions: 17 9/16" L x 10 3/8" W x 5 ¼" H
Weight: 12 lbs.
Power: 115V, 50/60 Hz, 700W, 6.4 amps
Cover Sizes: Minimum 5½" x 8½" Maximum 14 7/8" x 11"
Spine Sizes: Up to 2"

Please call your local representative for more info.
Outside of Montreal please call: 1-800-263-6759